RACK-BUILDING

Design studio, Winter 2018/19
Qualification
The design studio is addressed to highly motivated students with high skills in drawing, modeling and other media, who understand designing as a research process in which new solutions will be explored. We are not searching for ready-mades, but for innovation. Erasmus students are explicitly welcome.
Task 0
If you are interested in our design studio you need to participate in our task 0.
The handout will be on Wednesday, October 11th at 10 h in our open studio in room A814.
All further information and instructions will be given there.
Introduction
Abstract
The relationship between permanence and change is a central issue in the field of architecture. The idea of openness and flexibility in use is accompanied by several claims: spatial appropriation, participatory design, and long lifecycles – i.e. sustainability.

Sustainability in architecture today is increasingly determined by high-tech solutions. The underlying calculations are usually based on the period of economic depreciation rather than the expected structural lifespan of a building.(1) In most cases, optimisation to a relatively short time span is accompanied by specialisation regarding use—a specialisation that strongly contradicts the requirement of adaptability in the context of constant urban transformation.

Our studio seeks to explore alternative answers to the question of sustainability. We regard the conscious separation of base construction and fit-out design as a promising path to navigate the relation between permanence and change. Highly divergent durabilities of diverse building materials and parts encourage this approach. The typological starting point of our design is the rack - a low-tech and at the same time permanent structure as a platform for constant change.


Ford Company Highland Park, Main Building by Albert Kahn, 1908-1910.
Kurztext
Im Verhältnis von Dauerhaftigkeit und Wandel liegt ein zentrales Problem der Architektur. Mit der Idee der Nutzungsoffenheit oder Flexibilität eines Gebäudes verbinden sich viele Versprechen, Möglichkeiten der Aneignung, wie Teilhabe an der Gestaltung, vor allem jedoch eine hohe Lebensdauer – also Nachhaltigkeit.

Nachhaltigkeit in der Architektur wird heute zunehmend durch High-Tech Lösungen bestimmt. Die zugrunde liegenden Bilanzen richten sich in der Regel nach der Zeit wirtschaftlicher Abschreibung, nicht nach der zu erwartenden technischen Lebensdauer eines Gebäudes.(1) Mit der Optimierung auf ein kleines Zeitfenster geht zumeist auch eine Spezialisierung in Bezug auf die Nutzung einher. Eine Spezialisierung die in starkem Widerspruch steht zur Anforderung der Wandlungsfähigkeit im Kontext konstanter städtischer Transformationen.

Unser Studio sucht alternative Antworten auf die Frage der Nachhaltigkeit. Einen Lösungsansatz sehen wir im Spannungsfeld von Dauerhaftigkeit (der Struktur) und Wandel (der Nutzungen), bzw. einer bewussten Trennung von Konstruktion und Ausbau. Stark divergierende Haltbarkeiten von Gebäudeteilen legen eine solche Betrachtung nahe. Typologischer Ausgangspunkt unseres Entwurfs ist das Regal / rack – eine einfache und zugleich dauerhafte Struktur als Plattform für konstanten Wandel.

Shoe Machinery Factory by Ernest Leslie Ransome, 1905.
Task
A flexible, sustainable building is to be developed for the EUREF Campus in Berlin Schöneberg. The aim is (1.) to develop a building structure that can accommodate changing uses in the medium term, and (2.) to develop two interior concepts for residential and office use. The challenge of the design lies in the negotiation of time-based usage patterns and material life cycles.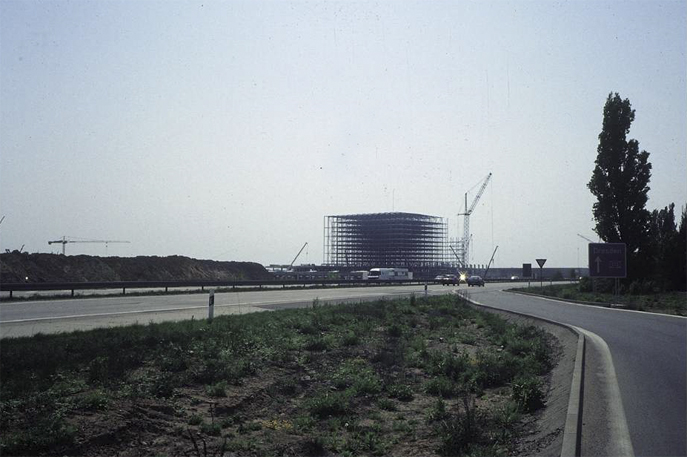 Structure close to highway, photo by Finn Geipel.
Aufgabe
Für den EUREF Campus in Berlin Schöneberg soll ein flexibel zu nutzendes, nachhaltiges Gebäude entwickelt werden. Ziel ist (1.) die Entwicklung einer Gebäudestruktur, die mittelfristig wechselnde Nutzungen beherbergen kann, sowie (2.) die Entwicklung von zwei Ausbaukonzepten für Wohn- und Büronutzung. Die Herausforderung des Entwurfs liegt in der Verhandlung von zeitbasierten Nutzungsmustern und materiellen Lebenszyklen.



Next21 by Yositika Utida/Shu-Koh-Sha Architectural and Urban Design Studio, 1993.



Program
Design Studio
Master: Arch M E. 01 Entwurfsprojekt Hochbau I (EP 12ECTS/8SWS)
Master: M-Arch-T P(15) Design Studio 2 (iV 12ECTS/8SWS)
Bachelor: 1.5 Entwerfen & Baukonstruktion V (EP 10ECTS/7SWS)

PiV
Master: Arch M E. 01 Projektintegrierte Veranstaltung zum Hochbau I (PiV 3ECTS/2SWS)
Master: M-Arch-T P(15) Design Studio 2 Integrated Seminar Typology 2 (iV 3ECTS/2SWS)
Bachelor: 3.2 Projektintegrierter Entwurf Tragwerk (PiV 6ECTS/4SWS)



Amazon España por dentro (San Fernando de Henares) by Álvaro Ibánez (source: https://www.flickr.com/photos/alvy/11309229846)

General Dates
Studio presentation Master: October 08 2018, 11.10 h, room A151
Studio presentation Bachelor: October 09 2018, 16.00 h, room A151
Hand-out Task 0: October 10 2018, 10.00 h, room A814
Hand-in Task 0: October 11 2018, 23:59 h, submission via email to grams@campus.tu-berlin.de
Presentation Task 0: October 12 2018, 10.00-11.00 h, room A814
Information on acceptance/rejection of applications: October 17 2018, by email

First meeting: Thursday, October 18. 10.00-15.00 h, room A814 (obligatory)

Please check timetable for latest updates.

Structure
The design studio and research seminar are fully integrated into a one semester course. It is divided into six phases: After an initial two-week experimental workshop, you will make a site analysis and develop different design scenarios. One of them will be selected and developed further in the scale of 1:500 with zooms in 1:200 until the mid-term presentation. This concept will be further elaborated into a design proposal in the scale of 1:200 with zooms in 1:50 and 1:20 until the final presentation. The studio will conclude with the production of a final documentation. The studio tasks will be elaborated in groups of 3-4 students.

Cooperation / PiV
PiV and iV - project integrated formats - focus on structural systems. They will be carried out in the format of integrated workshops with TEK - FG Rückert. Architects and experts from other fields will join regularily for input lectures and disussions.

Crits
Weekly desk crits in the studio, three pin-ups and two presentations with external guest critics will accompany the process.

Excursions
There will be various excursions to visit the sites and other interesting reference projects in Berlin.

Team Philosophy
We consider all members of the design studio together with us at LIA as one large research team working on Grand Berlin. We therefore regard collaboration, communication and sharing of knowledge inbetween the student groups as essential for the success of the project.

Studio A814
An essential precondition for good results is collaborative work in our studio space (room A 814). Working side by side will allow you to employ creative synergies, develop team spirit and effective communication. Please obtain a key for the studio and the lockers from our secretary.


Downloads

Timetable
Studio Brief
Task 0 Handout
Task 0 template
Contact


Martin Murrenhoff
wiss. Mitarbeiter
martin.murrenhoff@tu-berlin.de

Ali Saad
wiss. Mitarbeiter
saad@tu-berlin.de

Secretariat
Katrin Ritter,
Sekretariat A 20, Raum 911.
Mittwoch bis Freitag: 11.00-13.00
a20@tu-berlin.de


Literature


RAK-building
Baum, M.; Christiaanse, K. 2012. City As Loft. Zürich: Gta Verlag.
Buchanan, B. 1994. Renzo Piano Building Workshop. Sämtliche Werke, Band 1. Stuttgart: Hatje.
Cohen, J.-L.; et.al. 2002. Encyclopédie Perret. Katalog zur Ausstellung. Paris: Monum.
Collins, P. 2004. Concrete: The Vision of a New Architecture. Montreal: McGill-Queen's Press.
Habraken, J; Lüchinger, A. 2000. Doe Träger und die Menschen: das Ende des Massenwohungsbaus.
Den Haar: Arch-Ed.
Hart, F.; et al. 1995. Stahlbauatlas : Geschossbauten. München: Inst. für Internat. Architektur- Dokumentation.
Lacaton & Vassal, Ábalos, I. 2011. Lacaton & Vassal: obra reciente = Recent works. Barcelona: Gili.
Lüchinger, A.1987: Herman Hertzberger; Buildings and Projects. Den Haag: Arch Edition.
Nelson, G. 1939. Industrial Architecture of Albert Kahn. New York: Architectural Book Publ.
Peck, M. 2013. Atlas Moderner Betonbau: Konstruktion, Material, Nachhaltigkeit. München: Inst. für Internat. Architektur-Dokumentation.
Risselda, M. 1989. Raumplan versus Plan libre: Adolf Loos and Le Corbusier, 1919-1930. Delft: Delft Univ. Press.
Rudofsky, B. 1993. Architektur ohne Architekten: eine Einführung in die anonyme Architektur. Salzburg: Residenz- Verlag.
Winter, W.; Herzog, T. 2003. Holzbau-Atlas. Basel: Birkhäuser.

Program, Housing/Office
Abe, Hidetoshi. 2003. Office Urbanism, in: The Japan Architect 50.
Christ, Emanuel / Easton, V. / Gantenbein, Christoph. 2012. Typology: Hong Kong, Rome, New York, Buenos Aires. Review No. II . Zurich: Parks Books.
Ebner, P.; Herrmann, E.; Höllbacher, R.; Kuntscher, M.; Wietzorrek, U.; Lindberg, S. 2009. Typology +. Innovative Residential Architecture. Basel: Birkhäuser.
Eisele, Johan; Kloft, Ellen (Eds.). 2002. Hochhausatlas. Munich: Callwey.
Gasser, Markus; zur Brügge, Carolin; Tvrtkovic, Mario. 2010. Raumpilot Arbeiten. Stuttgart: Krämer.
Hascher, R; Arnold,T. 2002. Entwurfsatlas Bürobau. Basel: Birkhäuser.
Heckmann, O. / Schneider, F. 2011. Grundriss Atlas Wohnungsbau. Basel: Birkhäuser.
Kuo, A. 2013. A-typical plan: projects and essays on identity, flexibility, and atmosphere in the office building. Zurich: Park Books.
Maak, N. 2014. Wohnkomplex – Warum wir andere Häuser brauchen. Munich: Hanser.
Schittich, C. 2004. High-Density Housing – Concepts, Planning, Construction. Heidelberg: Birkhäuser.
Teige, K. 1932. The minimum dwelling. Reprint 2002. Cambridge, Mass. : MIT Press.
Wietzorrek, U. 2014. Wohnen+: von Schwellen, Übergangsräumen und Transparenzen. Basel: Birkhäuser.

Berlin
archplus 201/202. 2011. Berlin. Aachen / Berlin: archplus Verlag.
Brandlhuber, A. / Hertweck, F. / Mayfried, T. (Eds.). 2015. The Dialogic City – Berlin wird Berlin. Köln: Walther König.
Christiaanse, K. 2011. Berlin – ein doppelter Archipel. Ein Stadtkonzept 'revisited'. Archplus. 201-202, pp. 56-61.
Oswalt, P. 2000. Berlin Stadt ohne Form. Berlin, Munich, New York: Prestel.
Ungers, O. M.; Koolhaas, R. et. al. 1977. Die Stadt in der Stadt. Berlin, ein grünes Archipel. Reprint. 2013. Zurich: Lars Müller Publishers.

Site
Euref-Campus, https://www.euref.de/de/
FIS Broker, http://fbinter.stadt-berlin.de/fb/index.jsp
Geoportal, http://www.stadtentwicklung.berlin.de/geoinformation/
TU-Campus Euref, https://www.campus-euref.tu-berlin.de/menue/tu_campus_euref/

Building technology
Bohne, Dirk. 2014. Technischer Ausbau von Gebäuden. 10. Auflage. Wiesbaden: Springer Fachmedien.
Hayner, M. et al. 2013. Faustformel Gebäudetechnik für Architekten. 3. Auflage. Munich: Deutsche Verlagsanstalt.
Pistohl, W. / Rechenauer, C. / Scheuerer, B. 2013. Handbuch der Gebäudetechnik. Band 1 und 2. Köln: Werner Verlag.

Standards
Kaijima, M; Kuroda, J.; Tsukamoto, Y. 2001. Made in Tokyo. Tokyo: Kajima Institute Publishing.
Neufert, E; Kister, J. 2012. Bauentwurfslehre. Grundlagen, Normen, Vorschriften. 40. Auflage. Wiesbaden: Springer Vieweg.
Tufte, E. R. 2001. The Visual Display of Quantitive Information. Cheshire, Connecticut: Graphics Press.



References


Ford Motor Company Highland Park, Main Building, Albert Kahn, Detroit, US, 1910, built
Chrysler Half-Ton Truck Plant, Albert Kahn, Warren, US, 1938, built
Garage, Auguste Perret, Paris, France, 1907, built
Hôtel particulier per Maurice Lange a Parigi, Auguste Perret, Paris, France, 1930, built
Hôtel de Ville a La Haere, Auguste Perret, Paris, France, 1948-58, built
Grundbau und Siedler, BeL Sozietät für Architektur, Hamburg, Germany, 2013, built
InterAction Center, Cedric Price, Kentish Town, GB, 1967, demolished
Residential Block Rua do Teatro, Eduardo Souto de Moura, Porto, Portugal, 1995, built
Ökohäuser, Frei Otto, Berlin, Germany, 1987, built
Universität Marburg (Naturwissenschaftliche Institute), Staatliches Universitätsneubauamt/Helmut Spieker, Marburg an der Lahn, 1970, built
Diagoon Houses, Herman Hertzberger, Delft, Netherlands, 1971, built
Housing for old and disabled people, Herman Hertzberger, Amsterdam, Netherlands, 1974, built
Cellophane House, Kieran Timberlake, New York, US, 2008, disassembled
Architecture School Nantes, Lacaton Vassal, Nantes, France, 2009, built
Maison Dom-Ino, Le Corbusier, 1914/15, project
Villa Stein, Le Corbusier, Garches, France, 1927, built
Villa Savoye, Le Corbusier and Pierre Jeanneret, Poissy, France, 1931, built
Medical Research Centre, Louis Kahn, Philadelphia, US, 1961, built
Expo Pavillion 2000 (Netherlands), MVRDV, Hannover, Germany, 2000, built
Ausbauhaus, Praeger Richter Architekten, Berlin, Germany, 2014, built
Free Plan House, Renzo Piano Building Workshop, near Milan, Italy, 1974, built
Aluminium Research Institute, Renzo Piano Building Workshop, Novara, Italy, 1987, built
Art Institute of Chicago Modern Wing (Extension), Renzo Piano Building Workshop, Chicago, US, 2009, built
Sakuji Apartements, SANAA, Tokyo, Japan, 2011, built
Naked House, Shigeru Ban, Saitama, Japan, 2000, built
Edifizio Polifunzionale, Studio Passarelli, Rome, Italy, 1965, built
Next21, Yositika Utida/Shu-Koh-Sha Architectural and Urban Design Studio, Osaka, Japan, 1993, built