Critical Mass 2
An Investigation into Dense and Mixed Housing Types for Suburban Areas

MA-A + M-ARCH-T: ES Hochbau I / Architectural Design Studio, Summer 2021
german version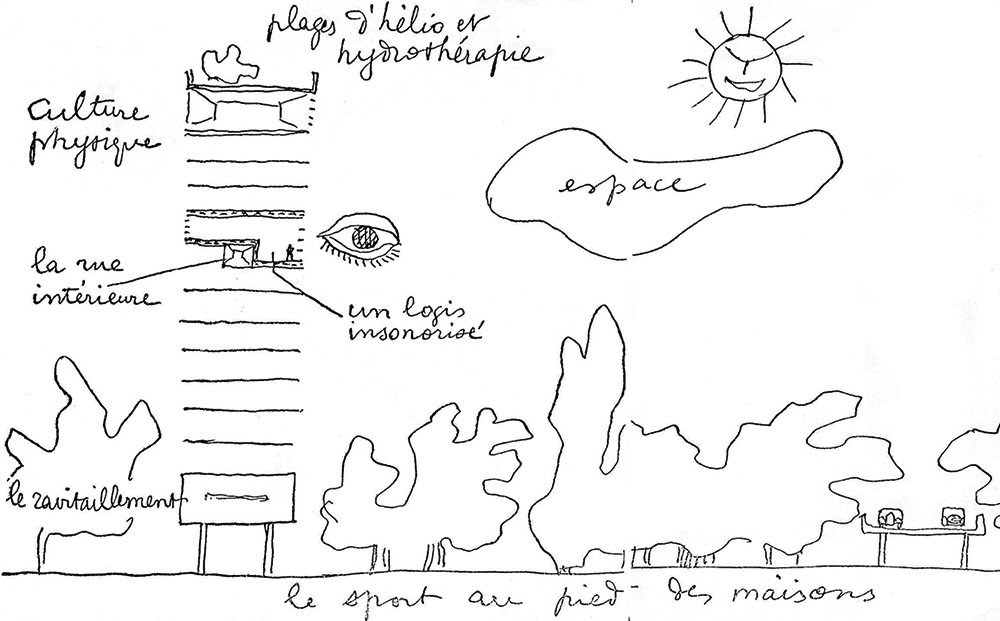 Qualification
The design studio addresses highly motivated students who are skilled in drawing, modeling and other media. You should be curious and open towards a design process which seeks to explore innovative solutions. Exchange students are explicitly welcome.
The application for the studio is organised centrally through the IfA. More info: see KVV (Kommentiertes Vorlesungsverzeichnis) on the IfA Website.
Intro
The combined Master Architecture and Master Typology design studio "Critical Mass 2 - An Investigation into Mixed Housing Types for Suburban Areas" aims to develop innovative architectural typologies for suburban areas.
Background
Triggered by rapid population growth, Berlin has been under pressure for several years. With a population of approximately 3,750,000 million in 2019, the city reached its highest population level since the end of World War II. In the five years prior to that, Berlin recorded 47,700 new residents per year.
Competition Berlin-Brandenburg 2070, SMAQ, Kopperroth, Alex Wall et al., Berlin, 2020, not realized
To create enough space for housing for the growing population, the city needs 20,000 new apartments per year. At the same time, for reasons of sustainability, the Berlin Senate has been committed to inner development ("Innenentwicklung") in recent years. As a result, formerly abundant brownfield sites are being filled with new residential projects at a rapid pace - not without encountering resistance from the local population. As a result, the Berlin Senate has been focusing on the participatory development of new construction projects for several years. At the same time, inexpensive building land has become a scarce commodity due to the decades-long policy of privatizing publicly-owned land. The shortage of land and the time-consuming participatory processes have made it impossible to meet the targets for the number of housing units envisaged per year.
Current debates, publications and competitions – such as the discussion on "Garden Cities of the 21st Century", competitions "Berlin-Brandenburg 2070" and "Stadtbaupuzzle", or the current issue of archplus – suggest that a rethinking has recently been evoked, bringing the development of more affordable, urban fringe areas back into the spotlight of urban planning.
A recent competition announcement by the state-owned housing cooperation HoWoGe describes this shift in thinking as follows:
"Against the backdrop of steady urban growth, Berlin is facing, among other things, an increased demand for affordable housing. In addition to the issue of redensification of inner city locations and large housing estates, peripheral settlement areas are increasingly coming into the planning focus, which are characterized by outdated suburban building typologies, low density, increased individual traffic and high land consumption. Future urban development is confronted with the challenge of creating sustainable, land-saving development and expansion opportunities at the edges of the city, which have an appropriate density in regard to the nearby agricultural and natural landscapes, as well as suitable building typologies."

(HoWoGe, excerpt of competition brief for ideas competition "Stadtbaupuzzle für den Berliner Stadtrand")

However, the ambitions of sustainable building typologies on the urban periphery have not yet been realized. On the one hand, new construction sites on the urban periphery are still characterized by mono-functionality. On the other hand, there is still a great demand for single-family homes, especially in rural and peri-urban areas, which are experiencing uninterrupted growth - a trend that may have been reinforced by the COVID-19 pandemic.
Task

Against this background, the design studio "Critical Mass 2" aims to develop innovative, dense and mixed-use housing typologies with a critical mass for urban fringe areas, thereby discussing visions and potentials for future living at the interface between city and landscape.
Requirements
The design project has to fullfill the following requirements:
The site for the project is to be freely chosen by each design group. It must be located within the specified project area section (see image below) and must not have any agricultural or landscape uses or be designated for such uses in the land use plan.


The total GFA of the project should be a critical mass of at least 12,000 sq. m. and should be distributed over a continiuous building form.


The design should offer housing of approximately 5/6 of the total GFA for different lifestyles, addressing a wide social spectrum (e.g. young families, co-living, students, elderly, disabled, etc.).


Approximately 1/6 of the total GFA is to be earmarked for other uses. On the one hand, the needs of the new residents and current developments - such as the need for communal areas or for working in home office - should be taken into account. At the same time, the uses should also compensate for deficits in the monofunctional environment, have an integrating effect on the existing buildings, and thus also be of benefit for the existing neighborhoods in order to enable interaction between the "existing" and the "new" residents.

Project area section in the northeast of Berlin
Project area

The project area is located in the northeast of Berlin on the administrative border of Berlin and Brandenburg between Neu-Hohenschönhausen, Malchow, Blankenburg and Heinersdorf. It is characterized by natural landscapes, agricultural areas and various islands with monofunctionally built structures, such as single-family house areas, allotment gardens, industrial and commercial areas or large housing estates. The area is connected to Berlin and Brandenburg by various bus and tram lines as well as by the S1,S2, S8, S9 (Bhf-Berlin-Blankenburg) and S75 (S-Bhf Berlin-Wartenberg).
Programm
Modules
Design Studio
Master: Arch M E. 03 Entwurfsprojekt Hochbau II (EP 12ECTS/8SWS)
Master: M-Arch-T P(15) Design Studio (iV 12ECTS/8SWS)
Project-integrated Seminar (PiV)

Master: Arch M E. 03 Projektintegrierte Veranstaltung zum Hochbau II (PiV 3ECTS/2SWS)
Master: M-Arch-T P(15) Design Studio Integrated Seminar Typology (iV 3ECTS/2SWS)
PiV will concist of two workshops. An introduction to the geographic and spatial analysis tools GIS and Space Syntax will be taught and applied to the design project.
Group work and online teaching

Students will work in groups of four throughout the design studio. Due to the current COVID19-situation, regulations regarding social distancing and hygiene must be strictly adhered to. Collaboration between individual students, and also between the department and student groups, will therefore take place exclusively online for the duration of the stay-at-home order. For this reason, a good division of work and regular communication via telephone or online tools between group members is essential.
General Dates
Wednesday, April 14 2021 – by Email – Notification on studio participation
Friday, April 16 2021 – 10.00-13.00 h – Online studio introduction
Friday, May14 2021 – 10.00-18.00 h – Online Pin-up 1
Friday, June 4 2021 – 10.00-18.00 h – Online mid-term presentation
Friday, June 25 2021 – 10.00-18.00 h – Online Pin-up 2
Friday, July 16 2021 – 10.00-18.00 h – Online final presentation
Please check the detailed timetable on ISIS on a regular basis for latest updates
Structure

Each design team will consist of 3-4 students. The first four weeks of the studio will consist of analysis of the project site and reference projects, and an experimentaion phase, in which first concepts and design scenarios will be developed. After the mid-term review, design project will be further elaborated in the form of plans, sections, models and other drawings in the scale of 1:200 until the final presentation.
Language

The studio language is English. All teaching material will be in English except the bilingual design brief. Students are free to talk, write and present in either English or German. If the students wish, individual feedback by the teaching staff can also be given in German.
Downloads

Timetable
Studio Brief
Contact

For further info please contact the research associates Germain Chan (g.chan@tu-berlin.de) and Ali Saad (saad@tu-berlin.de – until mid-May 2021 only).
For technical support concerning online teaching and the respective platforms and programs please contact our tutor Niki Sidirourgou (niki.sidirourgou@campus.tu-berlin.de).
For all administrative questions please contact Katrin Ritter (a20@tu-berlin.de).